Making some simple changes in your garden can really increase the number of wild visitors you see. Not only will giving nature a helping hand make you feel good, but attracting birds, ladybirds and hedgehogs is also a wonderfully natural way to reduce harmful pests like aphids and slugs. Here are some low-maintenance ideas to increase your wildlife traffic.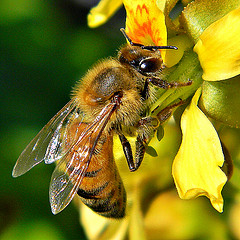 Which Plants to Choose
Providing a good range of all sizes, shapes and flowering patterns in the structured parts of your garden will ensure it appeals to the widest range of wildlife. Here are some ideas to consider:
Bees love tubular-shaped flowers like foxgloves and snapdragons
Fruit and berry trees and bushes of different heights to provide cover and attract birds
Teasels – bees love the flowers, and the seeds are attractive to birds. Great starter plant for your wild spot (see below) as they are very low maintenance.
Try to choose a range of plants that flower on different cycles to ensure a prolonged source of food
A Wild Spot
Leaving a part of your garden to be fully reclaimed by nature will provide the perfect rugged cover for the whole of your garden's wild food chain. Carefully choose a spot that is out of the way or hard to manage. Randomly scatter a few starter plants like teasels or a wildflower mix, then quite literally let it go to seed. If you get a huge, light-stealing plant then you may consider trimming it back, however in most cases weeds and grasses get to stay. Seeing as you will be leaving this garden to its own devices, consider giving it a strong start by digging in a slow-release fertiliser like hoof and horn before you start planting.
Housing Garden Beasties
You can provide targeted habitats for wildlife in your garden, too:
Invest in pre-made insect homes, or stick together short lengths of bamboo in a bunch or plant pot to make a bee hotel. Drilling holes into a piece of untreated wood provides a habitat for smaller bugs like ladybirds. Read this guide from the RSPB on building insect homes.
Hedgehog shelters
Bat/bird boxes
A pond, if you have the time and space
Leave a natural log pile in your wild spot to collect any number of species, from spiders to hedgehogs to toads
Making or decorating these could also be a fun children's project.
Preparing your soil
Before you start planting anything, you'll want to make sure your soil is in top condition. Proctors range of organic fertilisers are ideal for giving your natural garden a head start. Call us on 0117 311 1217 or get in touch online to get started.