"Sending you before and after photos of my damaged lawn totally fixed with a bit of seed and your spring / summer feed. Amazing. Thank you so much."
Anita D.

Before After 2.5 weeks. "Great!"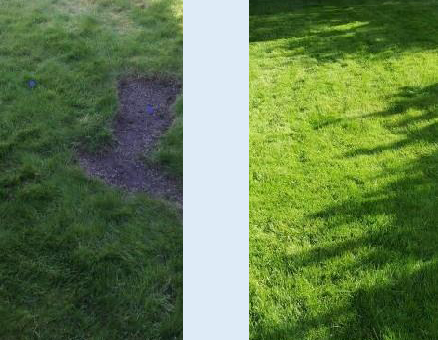 ---
"Firstly, let me start by saying thank you! The products you supplied have literally blown me away. My lawn (whilst only 1 year old now) is like a lush green carpet. The hot dry spell didn't touch it at all, and it remained (and remains in amazing condition). I recently had some visitors who described the lawn as 'like lush carpet'! To have this over my 1,000 sq. m of lawn is phenomenal, so thank you!
There is however a downside as I have become a victim of my own success! Basically, my neighbours have approached me and asked how on earth my lawn from seed 12 months ago is in such amazing condition! Simply put, good seed and Proctors products."
Chris W.
---
"Useful advice. Thanks for feedback, yours are the best products I have come across in many years of trying to keep an average lawn in reasonable shape."
Simon C.

---
"Many thanks for advice on lawn fertiliser, it was a pleasure to talk to advisor."
John M.

---
"I am enormously appreciative of your observations and advice concerning the chemical make-up of my soil sample and will act accordingly."
Hugh S.

---
"My fertiliser arrived in good order. This was faster than the speed of light, and certainly superior to the promise of a colossal American company. Thank you for the trouble you have taken for me."
Peter S.
---
"Goods arrived in good order today as you predicted. Please thank all concerned. Thanks for your efficiency this year again."
Ernest R.
---
"Thank you for taking the trouble to respond and for the information regarding your product. Your assistance has been exemplary."
Robin M.
---
Just to thank you for the prompt despatch of my order, great customer service."
Paul E.
---
"I have just placed an order with your company - thank you so much for your call, and the great service. Well done!!"
Alan K.
---
"I have 3 x sizeable lawns and have run into trouble in the past due to uneven distribution of various lawn products, after guidance from yourselves and using only Proctors products the lawns are now recovered and looking pretty good. Thanks for your advice and help."
Clive, South West Wales
---
"I used to order from you when I worked on a farm growing vegetables, so when I bought my house with a great big garden I decided to buy your products from you directly in one large lot. I now live in a smaller house and grow vegetables in raised beds; I'd been ordering my fertilisers from Amazon but have not been very pleased with the products. I was worried about ordering from you directly and I'm very pleased that I can buy direct from you in small tubs. My order was delivered today I am very pleased with the time it took to get here, and with my order. Thank you very much."
E. Kennedy
---
"Thought you might like to see a good Proctors fed lawn."
A. Gloak, Somerset
www.coombehouse.org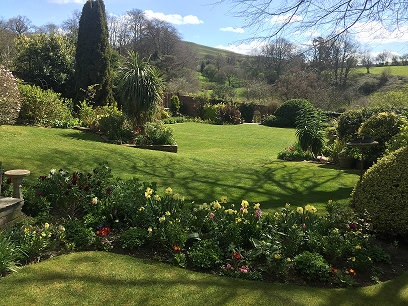 ---
"Thank you so much for your super-prompt and extremely clear and helpful response. It tells me exactly what I need to know, and I shall order your product consequently.
Before buying I do tend to research things, and contact companies for details quite often, and the usual response shows that the querie hasn't been read properly, with the result that I'm lucky to receive a vague answer to one of my questions. It's so unexpected to receive such a full and satisfying response."
Helen S.
---
Sub-Total: £35.28 incl VAT