A Short History of H & T Proctor Ltd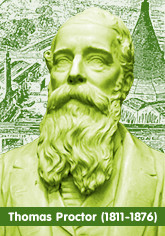 In 1812, in the reign of George III and in the year of Napoleon's disastrous retreat from Moscow, H & T Proctor started manufacturing fertilisers. Although it is usually ignored fertiliser manufacture was well establighed before Liebig's plant nutrition theory of 1840 and before Lawes's success with super phosphate.
The fertiliser with which Henry and Thomas Proctor were most concerned was bone manure. It is thought that Henry was more involved in the day-to-day conduct of the Bristol business than Thomas, who also had agricultural merchant interests in the Midlands.
By 1844, the Cathay works were the West of England Depot for bone, guano, nitrate of soda and other portable manures and a billhead at the time states: "He who gives to the Soil liberally will receive therefrom abundantly."
The second Thomas Proctor was 25 when the first Thomas died and he took over the active control of the firm. He went to Oxford to meet Liebig when the latter read a paper at the 1837 meeting of the British Association.
One result was that Baron's son, Hermann, was later sent to Bristol to study operations at the Cathay works. Another was the production of the "German compost" at Bristol, described as "one of the first if not the first attempt to reduce the suggestions of science to practice"....
H & T Proctor acknowledges the help of Mr R.A Holland in preparing this short history.
Sub-Total: £31.08 incl VAT