Proctors annually sponsor the Seed Shop in the Plant Heritage marquee at Hampton Court Palace Flower Show. Plant Heritage is a charity dedicated to preserving the diversity of Britain's cultivated plants. There are biological advantages to maintaining biodiversity, such as supporting the presence of bees. The cultural and social importance of cultivated plants is also an undervalued asset to Britain's landscape, which has been shaped by its growers and gardeners - from the stately homes to the small country cottages. Plant Heritage works hard to promote and protect this diversity – read on to see how.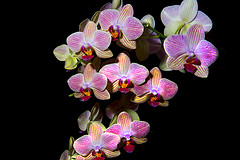 National Plant Collections Scheme
This scheme aims to create a 'living library' of all the threatened plants native to Britain. Individuals or organisations take responsibility for preserving and documenting a collection of plants. The aim of the 'library' is to ensure that all rare plants are represented and cared for to ensure their ongoing survival. The collections are open to the public at least for part of the time.

Plant Guardians
Members of Plant Heritage can contribute individually to the protection of Britain's plant diversity by registering as Plant Guardians if they are owners of threatened plants. By adding your rare plant to the database, you also make yourself searchable to others who may wish to request material from your plant.

Getting Involved
The local divisions of the charity have their own events calendars that you can check by region. You can support them with a membership, or sign up for a Plant Guardianship if you have a threatened plant in your collection. The best way by far to support the cause is by getting your hands dirty and increasing the diversity of the plants in your garden. You can use a Proctors fertiliser to optimise your soil and give your rare plants the best start – specific deficiencies such as a lack of nitrogen need a specialist treatment such as sulphate of ammonia, or there are other, organic choices like the slow-release hoof and horn which are great for optimising your all-round soil health. For information or advice, contact us online or on 0117 311 1217.