You don't have to be the most talented gardener in the world to create attractive flower beds. Doing so can really brighten up your green spaces, however large or small they might be. Even if you have a yard rather than a garden, you can create raised flower beds or potted displays, so there's no excuse for keeping those green fingers out of action.
Smaller gardens and yards
Raised flower beds can work really well for small gardens and yards. The best things about raised flower beds is that they won't need weeding and cannot be easily trampled. Use enriched potting soil and poultry manure pellets to give your flowers the boost they need.
Suspended and vertical flower beds can also create extra space and make you look extremely creative, and you can utilise old pieces of guttering, wooden pallets or pieces of lattice to keep costs down. It may even add to the effect if you paint these to match the flowers you select for your flower beds.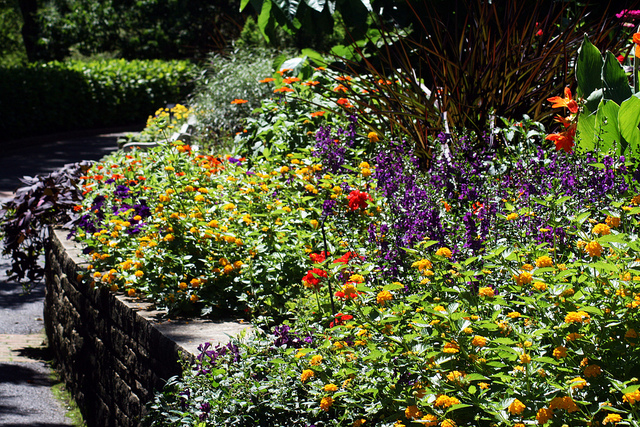 Larger gardens
If you have more space to play with, you may wish to go for a more traditional flower bed arrangement. Perhaps you want to border your whole garden, or maybe you are simply planning to add a few pockets of colour around the edges. If you are new to gardening and don't have a huge amount of time to create and maintain your flower beds, it may be worth limiting the size and scope of your flower bed project.
Remember to select plants that will last a long time and require as little upkeep as possible. Look out for perennials, which bloom during the spring and summer and die back during the autumn and winter, returning once again in the spring. Salvia nemorosa 'Caradonna', Tiarella 'Iron Butterfly', Foxglove 'Illumination Pink', Euphorbia corallioides and Erysimum 'Bowles's Mauve' are exotic-looking options that should flower at the right times and require limited maintenance.
Giving your flower beds a boost
Preparing the soil for your flower beds is key to making them a success. If you want to give your plants the best chance of survival, soil optimisation expert Proctors provide the ideal soil solutions. For an all-round soil optimiser try our sulphate of ammonia, or for targeted flower growth, Bloomer Booster is the perfect solution. Contact us today if you need some help deciding which fertiliser is right for your flowerbed.