Although summer is well underway, there's plenty of fruit and vegetables you can get going this month. Try growing these tasty crops and you'll be harvesting home-grown produce for months to come.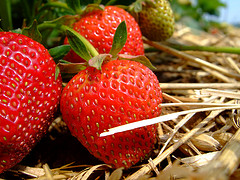 Perpetual Strawberries
Also called evergreens, these varieties crop twice a year (in spring and late autumn). Strawberries are compact plants, so ideal for pots and growbags, but they also do very well in the ground.
Getting strawberry seeds to germinate can be tricky and takes quite a long time. You also won't be able to harvest any fruit in the first year if you want healthy plants. Beginners are therefore probably safest buying young strawberry plants that are ready to plant out.
For best results, add a phosphorous rich fertiliser such as bone meal up to a month before planting and then place your strawberries every 45cm in rows 75cm apart. Make sure the top of the root ball is level with the soil surface – plants that are too low in the ground will rot and if they're too high they'll dry out.
When your plants start flowering, place straw or a fibre mat around them – if your strawberries rest on the soil they will rot. This is also the time to feed them with soluble sulphate of potash, which you should keep adding between once a week and once a fortnight until your strawberries finish fruiting.
Once your plants stop producing fruit, remove old, dead leaves and your straw or fibre mat to prevent pests and diseases taking a hold.
Calabrese (broccoli)
Calabrese is the most common variety of broccoli and is packed with dietary fibre, vitamin C and many other essential nutrients. July is pretty much your last chance to get calabrese started, so if you want to reap those health benefits, you'll have to get cracking.
Use a plug tray loosely filled with fine compost and sow one seed in each section, about 2cm deep. Give them a good watering, being careful not to saturate the compost, and your calabrese should germinate within a week. The resulting seedlings will be ready to plant out after four-six weeks.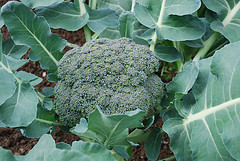 When you're ready for planting out, remember that calabrese sucks up a lot of nutrients, so prepare your soil with a good quality general fertiliser like fish, blood and bone. Seedlings should be planted roughly 45cm apart and you'll need to check the undersides of the leaves regularly for white fly and caterpillars, which should be removed straight away if found.
Calabrese stalks can be quite fragile, so after four-five weeks it's worth building the earth up around the stem (but below the leaves) to give the young plants some support.
Wait another six-eight weeks then harvest the head of the calabrese and enjoy! The plant should then start producing small side heads, which you can also harvest.
For more information about using fertilisers to get the most out of your garden, give us a call on 0117 311 1217.