Proctors are proud partners of Bath Rugby, one of the UK's oldest and most successful clubs. We supply the club with our high qualify fertilisers for their pitch and work closely with the club's head groundsman, Darren Ball.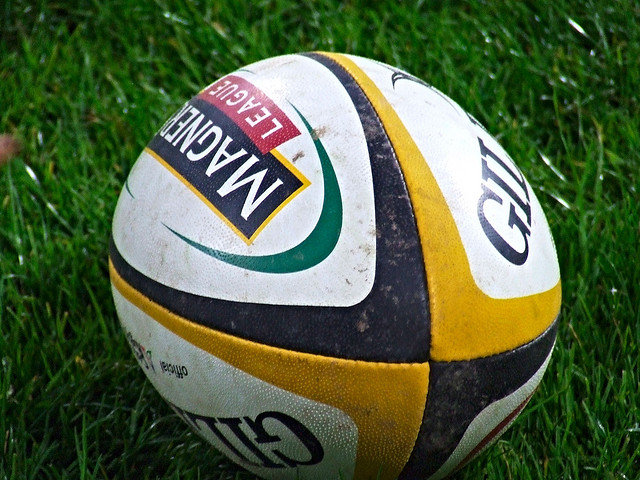 PHOTO BY Éamonn Ó Muirí / CC BY
Darren has worked for Bath Rugby for the last 13 years and received the Institute of Groundsmanship Award for Best Public Sector Sports Ground on behalf of Bath Rugby in 2010. His main responsibility is, of course, keeping the Bath Rugby pitch in the first rate condition expected of a top flight professional rugby club.
We recently caught up with Darren to see how he finds working with Proctors and our products and get a little insight into what goes into maintaining a professional rugby pitch.
Hi Darren, thanks for speaking to us today. How long have you been using Proctors products now?
This will be the third year that we're going into now.
Have you noticed a difference with them?
Yeah, they are good products. We've seen good results.
Which of Proctors products do you use?
We use the pre-seed, the spring and summer and the autumn and winter fertilisers.
What advantages have you found with Proctors fertilisers?
They've been very good for the pitches and offer good cost-value. With my budget, the more I can save the better as it means I've got the money to spend elsewhere. So the cost is good and the product is good, which is the main thing!
How helpful do you find the Proctors team if you have any issues?
I've got no complaints there. Every time I ring I get an answer and whenever I need someone to come down to the club, Jonathan is always available. The product always comes when I order it as well, within two or three days, so no issues there, especially compared to some!
What is the most challenging aspect of maintaining a professional rugby pitch?
I'd say the wet weather. That and the scrummaging, that can really tear up the pitch. And we don't have a reinforced pitch here, it's all natural grass, so it can get really torn up. That said, things have improved considerably over the past 13 years that I've been here, but being next to the river, drainage is always a problem. So yeah, the water and the scrummaging are the main issues.
What would be your top piece of advice for anyone, such as schools or community rugby clubs, looking to improve their pitch?
It really depends on the pitch. I actually do a lot of work with local clubs and smaller teams in the area. As well as being associated with Bath Rugby club, I've also played for Combe Down Rugby Club for 25 years and I often get called in to pitches around the area to give advice. I always recommend Proctors products because they offer good value for money.
Darren, thank you for your time.
Proctors offer a wide range of products, including top quality sports ground fertilisers and lawn care products. We work with a number of large amenities such as Bath Rugby, as well as stately homes, allotment associations, smallholders, domestic gardeners and more. As well as our existing range of fertilisers, we can also produce bespoke blends to match your exact requirements (one tonne minimum).
We put customer service first and are always happy to provide advice and guidance to our customers to allow you to get the best results with our products. To find out more or to place and order, please check out our online shop or feel free to give us a call on 0117 311 1217.