The Wimbledon Championships of this summer may seem like a distant memory to those of us who are enjoying the turning of the leaves as autumn approaches. For the 'Lawn Guardians' at the All England Lawn Tennis Club, however, their thoughts have already turned to preparing the grass for next year's championship.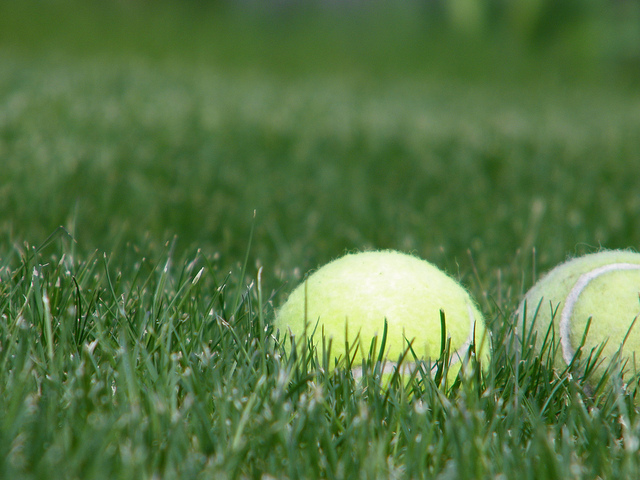 Late summer/early autumn is the best time to plant new grass seeds. Wimbledon has 100% rye grass lawns that are tended by experts throughout the year – they are carefully trimmed, watered and monitored to make sure they provide the optimum bounce and grip for the players. This process starts long before the championship begins, but as you won't have a dedicated team to monitor your lawn, we've prepared a cheat sheet to help you get an 'ace' lawn that will make your neighbours green with envy.
Prep the Soil
Up to 6 tonnes of fresh soil is spread over the playing courts at the end of the summer with a view to making the courts smooth and even, as well as making sure that all the essential nutrients for a healthy lawn are present.
It's unrealistic to expect you to fully replace the top layer of soil to achieve the same results. Instead, prepare and flatten the ground much as you would if you were laying down turf. Mix in a small amount of fresh soil, or apply a top quality lawn feed that is especially created to encourage root growth and health. Remember that a lawn's needs differ from season-to-season, so you'll want to get one that is suitable for autumn and winter application.
Sowing the Seeds
More than 15 permanent ground staff look after the lawns at Wimbledon. With this number of dedicated carers and access to specialist equipment, sowing 1 ton of seed doesn't seem like such a daunting task – getting it right by yourself can be a little harder, however.
The key to a good looking lawn is to ensure even coverage, which is hard if you don't have access to a seed spreader. If the packets don't specify the coverage, then a good amount is around 50g per square metre. You could use bamboo to mark out sections and then scatter the seeds by hand, or create your own budget seed spreader out of a coffee can.
Don't forget to rake over the area very gently, and then lightly water your soil straight after planting.
Aftercare
Stretch garden netting over the top until the seeds germinate to protect them from birds
Keep the soil moist during dry spells
Don't walk on it for as long as possible
Use a specialist fertiliser when the season calls for it
With some care, innovation and a good mix of suitable lawn products you can have a champion's lawn without having to employ 15 caretakers! Contact us any time on 0117 311 1217 to get more advice about caring for your lawns.