The Chelsea Flower Show has named their 'plant of the centenary' from a shortlist of 10 – one for each decade that the show has been running. We think they've made a great choice with the Geranium, one of Britain's favourite flowers, finding its way into flower beds, cottage gardens and rock gardens across the country.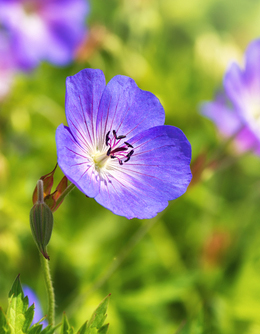 Image credit: Stefan Holm/Shutterstock.com
It is a wonderful flower, firstly because of its beautiful colours and markings, which include white, pink, blue and purple blooms with marvellous veining to add interest to its five petal symmetry. And secondly, it's easy to grow, because it's suitable for many different types of soils and gardens, so it's perfect for beginners as well as the gardening enthusiast.
The only prerequisite is that the soil is not waterlogged. Beyond that restriction, the Geranium can grow in any moderately fertile soil, including sand, clay, chalk and loam, so it can find a home in virtually any garden, especially as the pH level of the soil can be acid, alkaline or neutral. It also can be placed in full sun or partial shade, further adding to its flexibility and tolerance to adverse conditions.
Maintain Fertile Soil
With the soil types being so varied the only thing you have to think about is maintaining the nutrients in your soil. We have a brilliant flower fertiliser for the job called 'Bloomer Booster', which is packed full of magnesium to aid photosynthesis giving your Geraniums lots of energy to grow and produce its vibrant colours. Bloomer Booster is a great fertiliser if you're a beginner gardener as it is also a good general fertiliser for the whole garden, so you don't need to buy a long list of specialised products.
Preening your Geraniums
Now that you've got your soil sorted all you have to do to get the most out of your Geraniums is to cut off any dead flowers and leaves so that the plant can put its energy into new and healthy growth. The Royal Horticultural Society suggests this technique for Geraniums: "Hold the faded flower stalk near the base and pull downwards. The old bloom will snap out cleanly".
So good luck with your Geraniums, we're sure you'll be exhibiting at Chelsea in no time! Take a look at the website for more information on the rest of our fertilisers and products such as lawn feed, or call us for some advice on 0117 311 1217.