Celebrating 50 Years of RHS Britain in Bloom
Britain in Bloom is a national competition between communities of all sizes - from tiny villages to large cities - that judges their horticultural expertise and awards prizes based on their achievements. It was first held 50 years ago in 1964, and has been organised by the Royal Horticultural Society (RHS) since 2002.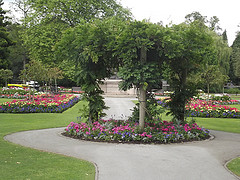 Project Aims
The aim is, of course, to celebrate and award the achievements of local communities. However, increasing awareness of gardening practices for the purpose of encouraging more people of all ages to learn and get involved is the overall aim of the RHS, and the 'Bloom' is a great way to do this. The competition not only encourages people to pick up a trowel, it adds to the beauty of Britain by increasing the number of beautiful garden spaces we have, both in public and in our own gardens.
The Competition
Each year, the regions put forward their best, winning entrants from their local competitions, around 80 in total, to the UK Finals. The finalists all get awarded Gold, Silver or Bronze for their efforts, as well as a number of special prizes for specific achievements in areas such as high sustainability, youth projects or community involvement. Winners from each category – divided by the size of their community – are also chosen. This year's finalists of all categories have been announced and will be getting their results later in the year.
Get Involved
Projects typically include:
Caring for/renovating local spaces like parks or squares
Creating/maintaining conservation areas, wildlife gardens, etc.
Creating floral displays in public places
Regenerating run-down or disused public spaces
Environmental community drives such as encouraging composting and recycling, organising litter clean-ups, etc.
Check who to contact near you and get your gardening gloves on if you want to contribute to a local project. Or, you can always take inspiration and have a go at beautifying your own garden! Summer's a great time to brighten up your outdoor space by working on your flower beds. Encourage your flowers to keep blooming right until the end of the summer and beyond by optimising the soil before you plant – a fertiliser such as sulphate of potash will encourage your flowers to bloom well, and keep the leaves green and bright.
2014 Special Campaign
This year's 'Britain in Bloom' campaign has been supported by the theme 'Growing for Gold' which encourages pollinator-friendly practices. They have been recommending that everyone grows golden-coloured flowers that are attractive to bees and other pollinators. In April, they really pushed this by sending out over half a million sunflower seeds to local 'Bloom' projects to plant out in their public spaces – you may even have seen sunflowers growing in your area and not realised that they were part of a 'Bloom' project!
If you're having a go at bringing out the colour in your garden this summer to celebrate 50 years of 'Britain in Bloom', consider using a Proctors fertiliser to optimise your soil for the best blooms possible. Call us on 0117 311 1217 and discuss what your garden needs to make your flowers pop.