Fundraising Record Achieved Thanks to Proctors Support
8 Nov 2012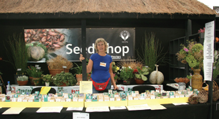 Proctors has helped cultivated plant conservation charity, Plant Heritage, to a record breaking response at the 2012 Hampton Court Palace Flower Show.
For the past 5 years the charity has run a seed shop at the show where the public can pick up packets of seeds from rare plants which are harvested from the gardens of Plant Heritage members, National Plant Collection Holders and a host of notable gardens in exchange for a donation to Plant Heritage.
With 4,000 seed packets on offer this year including for the first time a selection from Buckingham Palace, thanks to Proctors support, the charity broke an all-time record, raising almost £5,000.
Celebrate with us!
1 Sep 2012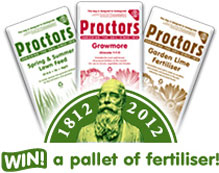 To celebrate our 200 years of trading for every order placed throughout 2012, customers will be automatically placed into our prize draw to win a pallet of fertilisers delivered in 2013.
For further information please contact Jonathan on 0117 311 1208.
---
Proctors becomes junior team sponsor
1 Sep 2012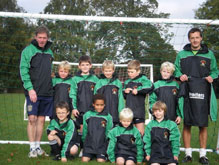 Proctors are proud supporters of Sidmouth Town Junior Viking Warriors under 8s football team.
Sponsorship News: Plant Heritage
1 Sep 2012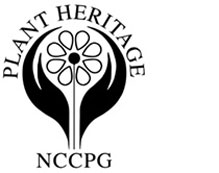 To celebrate our 200 years trading, Proctors are proud to support worthwhile charity Plant Heritage by donating £2 for every information pack requested.
Plant Heritage is the world's leading garden plant conservation charity, best known for the National Plant Collection® scheme. Its mission is to safeguard the biodiversity of garden plants in the British Isles for future generations and to help educate the public in the importance of cultivated plant conservation.
Proctors gives boost to plant conservation
1 Sep 2012

Proctors has given a major boost to national plant conservation charity, Plant Heritage in the form of a sponsorship deal.
Proctors has pledged to sponsor Plant Heritage's Seed Shop at the forthcoming Hampton Court Palace Flower Show. This new deal will enable the charity to package and sell over 4,000 rare and unusual seeds which National Plant Collection Holders and members have collected over the past year.
Speaking on its decision to support the charity Lucy Addison said Bristol based Proctors has selected Plant Heritage because they felt it was a worthwhile and relevant charity. "We very much understand the importance of plant conservation," she said.
"It is essential that the safeguarding of garden plants for future generations to enjoy through research, cultivation and education continues and the Proctors team are excited to be helping to spread the word," added Ms Addison.
Speaking on the partnership Plant Heritage Fundraising Officer Joanna Jones said she was delighted when Proctors had contacted the charity. "Now one year on, the relationship has grown to Proctors' sponsoring our very popular Seed Shop in the Plant Heritage marquee at Hampton Court Palace Flower Show. We hope to continue this relationship for years to come."
Plant Heritage aims to encourage the conservation of cultivated plants in the British Isles and brings everyone from keen amateur gardeners to botanists and leading horticulturalists to help preserve the UK'S garden plants.
Fertiliser company Proctors, founded in 1812, joined another Bristol based family company, Willett and Son, in 1986. Also founded in the 1900's, Willett's supplies the Agricultural industry, while Proctors continues to supply the Horticultural and Amenity markets.
Keeping to its traditional values, Willett and Son remains a family business, with two of the last three generations of the Wright family working there today.
Sub-Total: £35.28 incl VAT